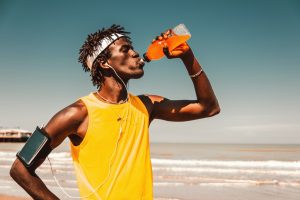 Sports drinks were invented as a way to keep athletes hydrated while simultaneously replenishing electrolytes that are lost through sweat. They are helpful during a vigorous workout and taste good, but they aren't usually great for your health, especially the health of your teeth. Dentists warn that they often contain as much or more sugar and acid than soda and juices. Keep reading to learn about why you shouldn't frequently drink sports drinks and some healthy alternatives you can choose instead.
How Do Sports Drinks Affect Oral Health?
Along with daily brushing, flossing, and regular dental cleanings, a healthy diet is crucial for a healthy smile. Sports drinks contain high levels of sugar and acids, which is a terrible combination for your teeth. In fact, sports drinks are so acidic, they can corrode the enamel of your teeth. This can lead to a variety of problems, including:
Tooth Pain: Corroded enamel means that you will experience more sensitivity to hot and cold food.
Discoloration: When dentin becomes exposed, your teeth will appear more yellow.
Transparency: Your front teeth may look somewhat transparent and blue near the edges.
Cracks in the teeth: If the tooth enamel is eroding, it's possible for your teeth to develop cracks along the chewing surface.
Depressions: Depressions on the biting surface of the teeth are more likely to form.
Acid makes your teeth much more vulnerable to bacteria, which have plenty of fuel thanks to all the sugar in these beverages. Eventually, bacteria can sneak into cracks and cause tooth decay. When left untreated, this can lead to cavities and gum disease.
How Can I Protect My Teeth from Sports Drinks?
If you do have an occasional sports drink, remember to:
Use a straw to limit the contact between the liquid and your
Rinse your teeth with water or mouthwash afterwards.
Have it with a meal when your mouth is producing more saliva.
Wait for at least 45 minutes to brush your teeth Acid in the drinks soften your enamel and brushing right away can wear that enamel down.
Avoid drinking them before you go to bed.
What Are Some Tooth-Friendly Alternatives to Sports Drinks?
If you are an athlete or engage in vigorous exercise and are worried about losing energy, try some of these tooth-friendly alternatives:
Coconut water: It's great for rehydrating and has wholesome nutrients instead of added sugars.
Banana: Eating a banana, along with drinking water, is effective at replenishing electrolytes.
Chocolate milk: In moderation, chocolate milk has a great balance of carbs and proteins as well as vitamins A and D, iron, and calcium.
Ideally, you should avoid sports drinks altogether because water is and will always be the best way to stay hydrated. It contains no sugar, stimulates saliva production and rinses the mouth. Take precautions so you can keep your mind focused on the game and have one less thing to worry about.
About the Author
Dr. Brett Noorda provides a comprehensive variety of services at his practice in Henderson, NV He has taken more than 750 hours of continuing education in all areas of dentistry, with emphases on sedation dentistry, dental implants, root canal treatment, cosmetic dentistry, and orthodontics. For more information on keeping your smile in great shape this summer, or to schedule an appointment, visit his website or call (702) 456-7403.