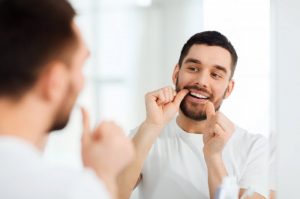 You know you are supposed to brush your teeth before calling it a night, but once again your bed is just too inviting. It's been a long day, so you decide on a quick 30-second brush and a drop of mouthwash will do the trick. Are you guilty of finding yourself in this situation now and again?
Maintaining good oral hygiene habits is crucial to the health of your gums, the strength of your teeth, and your overall confidence. Before you fall back into those bad habits, a Henderson dentist shares how to create an effective oral health care plan in 3 easy steps.

The Foundation of a Good Dental Hygiene Routine
The foundation of a proper oral hygiene routine is keeping your gums and teeth healthy and working optimally. If neglected, your mouth can become a breeding den of bad bacteria, disease, and decay. You can combat each of these negative effects by maintaining a proper dental hygiene routine that consists of:
Correct brushing technique – Brushing your teeth effectively goes beyond just running the bristles of the toothbrush over your teeth. For your teeth to get the cleaning they need, they need to be brushed for two minutes, twice a day, in a firm but gentle manner.
Flossing daily – This step may seem tedious, but it is a crucial step in your overall oral health care plan. Flossing daily will prevent cavities and tooth decay by removing debris from places that your toothbrush can't reach.
Clean your tongue – Without proper cleaning, your tongue can host several bad bacteria. From there, it can spread it to your teeth, gums, and throat. Combat this spread of bacteria by cleaning it gently with your toothbrush before running a tongue scraper over it.
A clean diet – Strong teeth and healthy gums start from the inside. By opting for a clean diet that includes leafy greens, healthy protein, and rich fruits, you will fuel your body with the nutrients and minerals it needs to function optimally.
Lots of water – It can be tempting to reach for a fizzy soda or glass of wine, but both of those can stain and damage your teeth. Water is a healthier option that can rinse sticky and acidic foods from your teeth, avoiding further damage. Plus, fluoride is often found in tap water, which is a mineral that fights against tooth decay.
3 Tips for Starting an Oral Hygiene Routine
Implementing a consistent oral hygiene routine can seem overwhelming at first, especially if you have never had one before. Here are 3 tips to help get you started:
Determine your motivation – Whether it is to have a pearly white smile, to avoid cavities, or anything in between, determining your motivation will help you remain consistent with your oral health care plan, even when you feel like skipping it.
Start small – Instead of implementing each step all at once, consider making small steps each day. Start by drinking a glass of water with each meal and opting for fruits and vegetables for snacks. Then commit to a proper brushing and flossing regime each day, no matter how tired you feel.
Ask for help – If you have questions on which toothbrush is best, what mouthwash to use, or if you are using the right technique, ask your dentist for help! They will be able to provide you with recommendations that will keep your teeth and gums healthy.
Forgoing oral care best practices can be tempting, especially after a long day. However, implementing a good dental hygiene routine and incorporating the above tips will leave you with a beautiful smile that is definitely worth the extra couple of minutes!
About the Author
After graduating cum laude from Brigham Young University, Dr. Brett Noorda received his DMD from Oregon Health Sciences University, where he also graduated with Honors. He has received more than 750 hours of continuing education and used his expertise to provide patients with unparalleled safety and personalized care. If you would like additional tips for a proper oral health routine, don't hesitate to visit his website or contact his office by phone at 702-456-7403.