Same-Day 1-Visit Dental Crowns – Henderson, NV
Making Restorative Care Convenient
At Dental Excellence: Dr. Brett Noorda, we strive to provide superior dental care, which is why Dr. Brett Noorda offers his patients the most advanced dental technologies to enhance the level of services you receive. One of our technological advancements is CEREC CAD-CAM 1-visit porcelain crowns. This revolutionary dental technology allows Dr. Noorda to provide same-day restorations in one appointment to save you valuable time without compromising your quality of care. With CEREC, you will get a high-quality restoration through a simplified and quicker treatment process for a healthy, beautiful smile, using same day, one-visit dental crowns from our Henderson, NV dentist.
Why Choose Dental Excellence: Dr. Brett Noorda for Same-Day 1-Visit Dental Crowns?
Custom Porcelain Dental Crowns in One Visit
Precisely-Fitted, Lasting Dental Restorations
We Proudly Accept Dental Insurance
Benefits of
CEREC Technology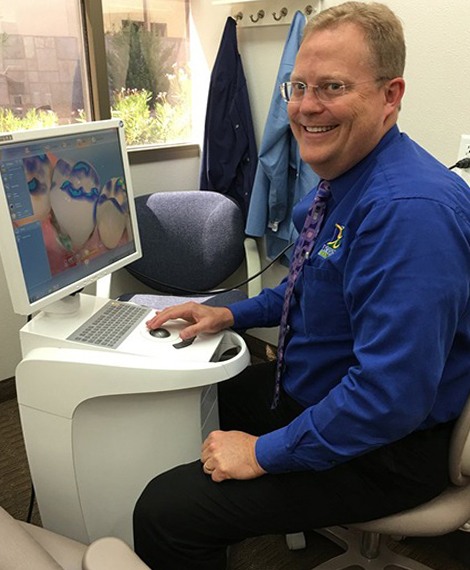 CEREC technology allows Dr. Noorda to create natural-looking restorations from start to finish in about two hours. Your tooth is prepared for a crown in the traditional way. But instead of taking messy, uncomfortable putty impressions, making weak, unpredictable plastic temporary crowns, and having you return for a second appointment several days later, we'll use our digital scanning system to provide precise measurements of your tooth for your custom-designed restoration. Then the restoration is created right in the dental office and cemented on your tooth. No impression, no temporary, no second appointment. Just done. This is the perfect option for those who have strong gag reflexes, have had difficulty with temporary crowns falling off, or just want to save time. Our digital technology is painless and doesn't cause discomfort, so you can have a more enjoyable and relaxing time in the treatment chair.
How CEREC 1-Visit
Dental Crowns are Made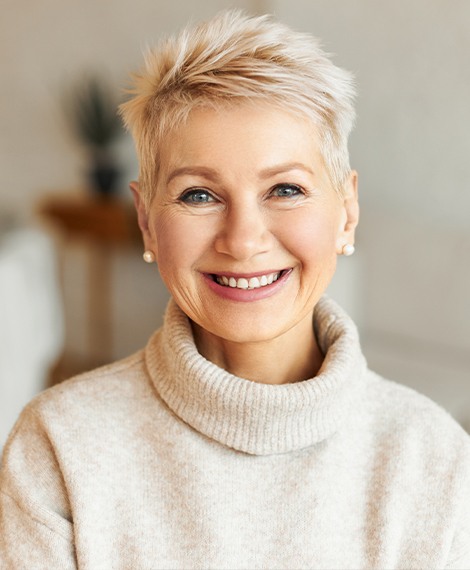 Once your tooth has been prepared for a crown, we capture detailed digital images of it using a special camera Then our advanced CAD (computer-aided design) software does its magic and turns those images into a hyper-accurate 3-dimensional digital model of your teeth. Using this model Dr. Noorda will custom-design your dental crown too demanding specifications and the crown will be tailored to meet your size, shape, and color preferences.
The digital blueprint for your crown is then sent to our in-office CAM (computer-aided milling) machine. The mill rapidly and efficiently sculpts your crown from a single block of ceramic porcelain in about 10-15 minutes. Once the crown is milled, it is tried on your tooth to confirm an accurate fit and adjust it to your bite. For some porcelain materials, there is one additional step: firing the crown in a kiln (a porcelain oven), which gives the crown its highest strength and smooth-like-a-tooth surface. The whole creation process takes less than an hour. Now your crown is ready to be bonded to your tooth!
With everything needed to create a high-quality dental crown right here in our dental office, we don't need an outside dental lab, and you won't need a temporary crown or a second appointment. In just one visit, you will have the restoration you need while making the most of your valuable time.
Dental Crowns in 1 Visit
with CEREC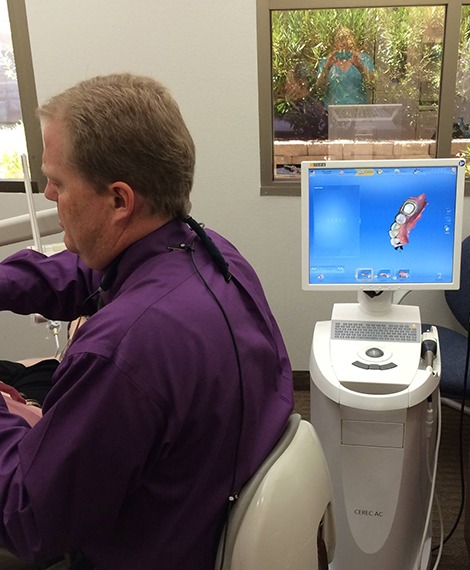 With CEREC technology, we simplify the process for many common dental procedures, including dental crowns, inlays, and onlays. Now, you can undergo the entire procedure in just one visit. Although the process is quicker, rest assured, because you get the same (or better) high-quality restorations as you would via traditional methods.
In fact, you will benefit from more accurate and precise results due to the 3D imaging, which minimizes processing errors in the creation process of the crown. This provides Dr. Noorda the opportunity to create the exact restoration you need with minimal risks for error. You will have a natural-looking, custom-made restoration that meets your exact specifications to take the hassle out of dental procedures.
Your Henderson Dentist
for CEREC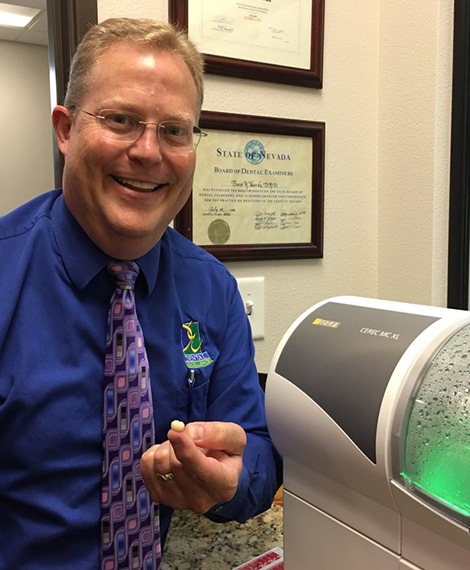 If you need a dental restoration, take the headache and hassle out of the process. Benefit from same-day 1-visit crowns with CEREC technology. With a custom process from start to finish, you will get a custom, long-lasting, and beautiful restoration that is tailored to your specific needs in about two hours.
Benefit from the most advanced dental techniques with Dr. Noorda. Contact our dental office today to schedule an appointment for same-day, 1-visit dentistry with CEREC technology.