Restorative Dentistry – Henderson, NV
Restoring Your Smile's Health & Appearance
Here at Dental Excellence: Dr. Brett Noorda, Dr. Brett Noorda is always happy to help patients rebuild and revitalize their smiles with our available restorative services. Struggling with a damaged or incomplete smile can hinder your oral function, your aesthetic appearance, and your overall quality of life. With exceptional skill and personalized focus, our team can give you a true transformation, providing needed strength and structure to damaged teeth without highlighting them. Contact our dental office today to learn more about restorative dentistry in Henderson, NV!
Why Choose Dental Excellence: Dr. Brett Noorda for Restorative Dentistry?
Advanced Technology for Same-Day Crowns
We Proudly Accept Dental Insurance
Only Tooth-Colored, Non-Metal Filling Materials
Same-Day 1-Visit Dental Crowns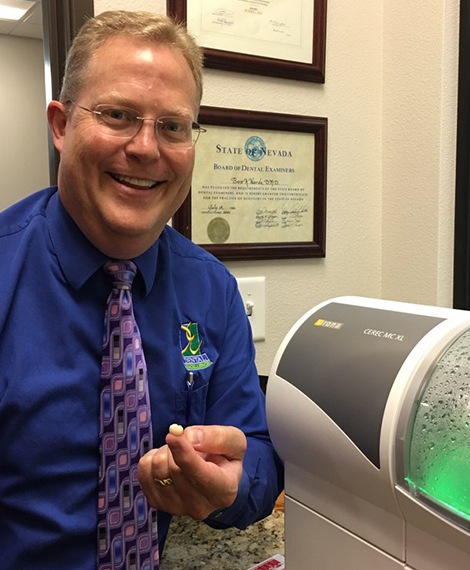 With one-visit crowns, patients no longer need to worry about messy impressions or frustrating temporary restorations. Instead, our team can design, create, and place a brand-new, perfectly life-like crown in just one appointment at Dental Excellence: Dr. Brett Noorda. Our advanced CEREC technology will capture digital images of your teeth as guided by our team, and then Dr. Brett Noorda will use the precise 3D software to design a high-quality, personalized crown you're sure to love. Once the milling machine has created the actual restoration and any additional shading has been completed, we'll cement it into place. The process is completely custom from start to finish, and best of all, it's complete in just one visit.
Learn More About Same-Day 1-Visit Crowns
Wisdom Tooth Removal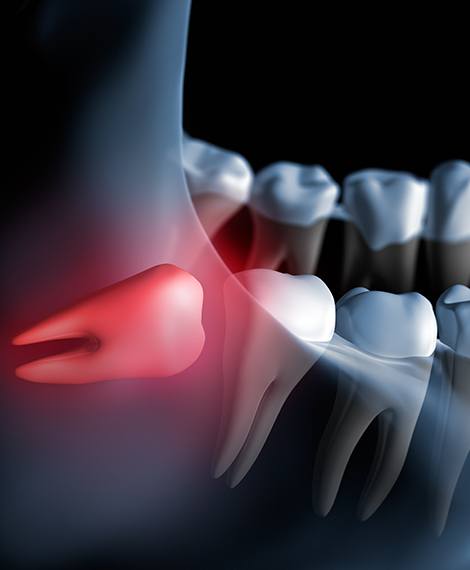 While our team does everything we can to help patients avoid tooth extraction, there are cases where it's necessary to preserve overall oral health. This is never truer than with wisdom teeth, which can cause potentially serious problems like partial eruption, overcrowding, abscesses, damage to other teeth, and more. If Dr. Brett Noorda determines through an evaluation that wisdom tooth removal is the best option for your smile, he and his staff will be sure to handle the procedure as smoothly as possible so that you can remain comfortable at all times.
Reconstructive Dentistry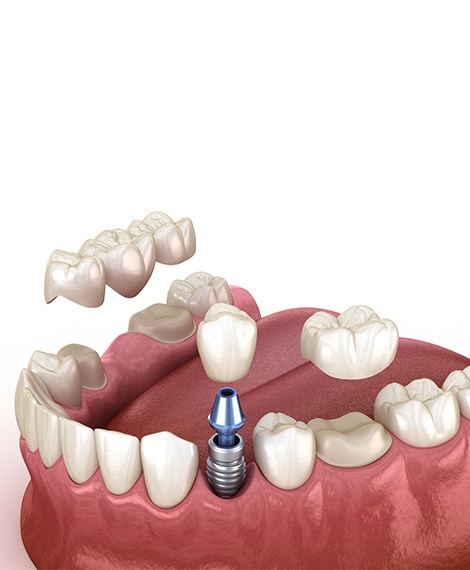 Losing just one tooth in your natural smile can be a devastating blow to your overall quality of life. Even more gaps can lead to difficulty and embarrassment when performing the simplest of tasks, such as eating or speaking. Here in the Las Vegas area, Dr. Brett Noorda wants to help you overcome these difficulties. Our team offers several reconstructive solutions for tooth loss, including dental implants, dental bridges, digital dentures, and more. We'll work closely with you to ensure you receive the best option for your unique needs.
Dental Implants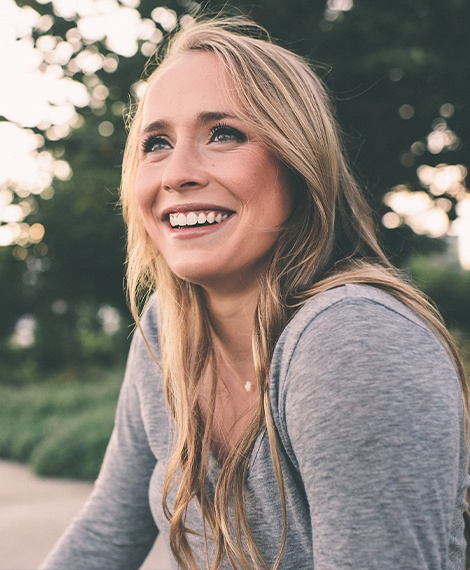 The best and most life-like way to replace a missing tooth or teeth is with dental implants. They offer stability and strength, and restore your ability to chew and speak with confidence. With implants, you can be secure in the knowledge that your implant teeth are fixed in place, just like your real teeth. And with Dr. Brett Noorda, who is extensively trained in the placement and restoration of implants, you can be secure in knowing you are getting the best implant care available, from start to finish, all in his dental office.
Learn More About Dental Implants
Dental Bridges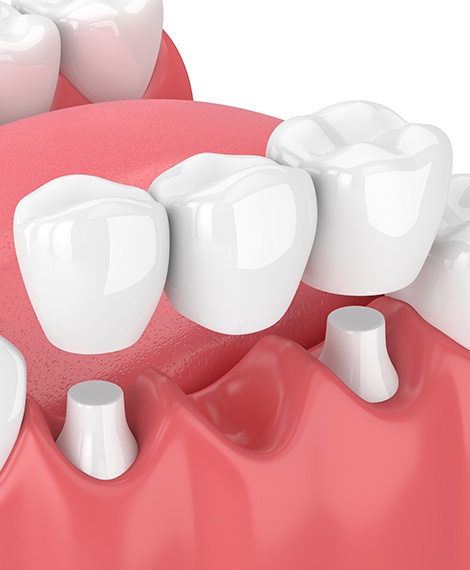 If you're missing one or more teeth in a row, we offer dental bridges to help fill the gap in your smile and make daily tasks like eating and speaking easier. This prosthetic consists of two or more dental crowns that are fused to either side of one or more free-standing replacement teeth. The crowns are secured to the natural teeth on the sides of the gap in your smile, holding your replacement teeth in place. With the proper maintenance, you'll be able to enjoy your new smile for many years.
Digital Dentures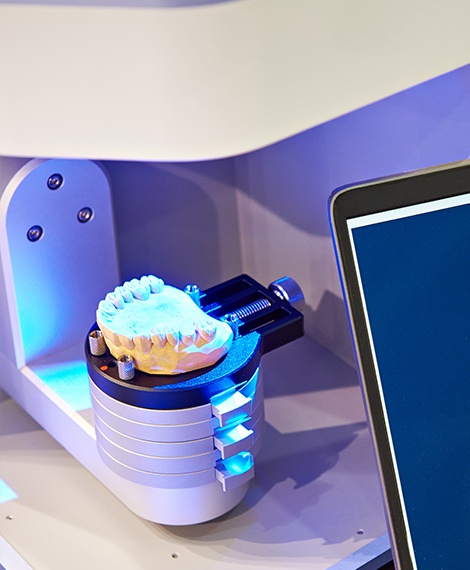 Digital dentures offer patients astounding benefits when compared to traditional prosthetics. After taking impressions or digital scans of your mouth , Dr. Brett Noorda will collect all necessary information that's then used to compile an accurate digital record. Then, just a couple of weeks later, you'll be enjoying your brand-new, digitally made dentures! Using a computer helps to eliminate common imperfections regarding fit, alignment, and bite, and if you need a second pair or replacement pair, they can be made to the exact same specifications using your already-existing digital information.
Porcelain Dental Crowns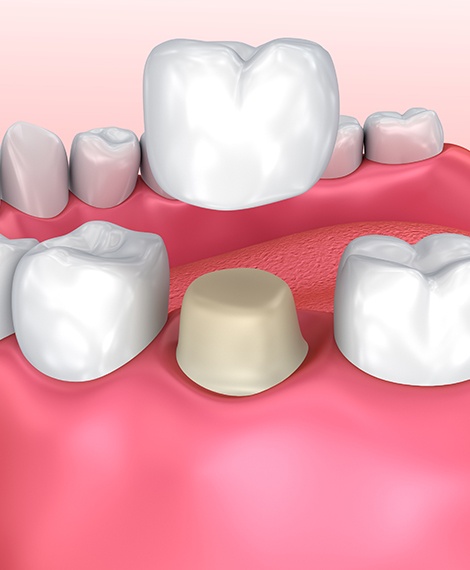 If you have an outdated metal crown, it's time to make a change. Not only are these known to cause gum and tooth discoloration, but due to the fact that they aren't biocompatible, they're also known to leak and result in further damage to the teeth they're placed on. We craft our crowns from a beautiful, natural-looking, and durable dental material called porcelain. It's stain-resistant and requires less alteration of your natural tooth in order to be placed, because it's a safe, biocompatible dental material.
Learn More About Porcelain Crowns
Inlays & Onlays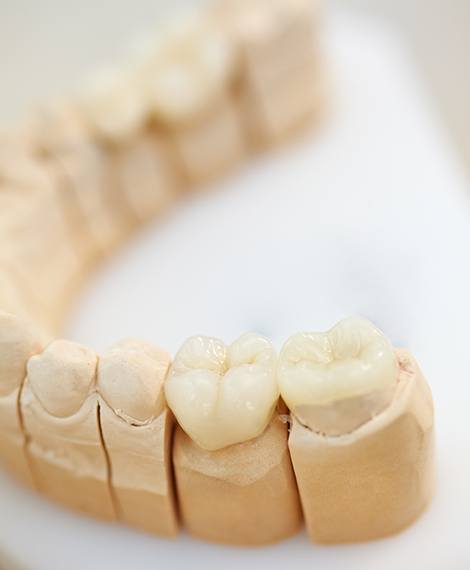 If you have dental decay or damage that isn't substantial enough to justify getting a complete dental crown, but needs a little more work than a simple tooth-colored filling, inlays and onlays may be the most conservative solution for you. These are custom-designed to fit over any damaged parts of a tooth to keep harmful oral bacteria from wreaking additional havoc on them. They can be made from a variety of materials, but many patients prefer to have them crafted from natural-looking porcelain. Like our porcelain crowns, they can be made in our advanced technology CEREC 1-day system and be completed in a single visit.
Learn More About Inlays & Onlays
Dentures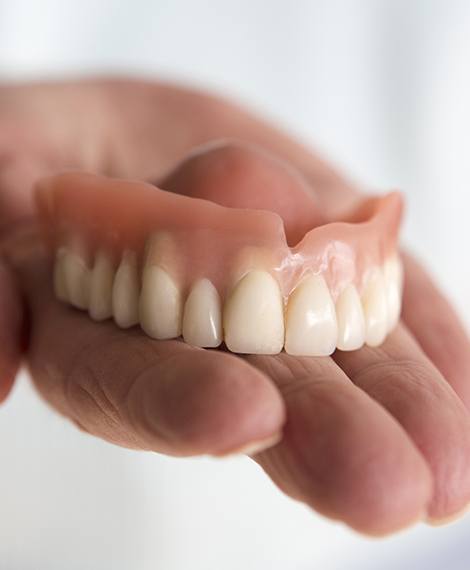 Full and partial dentures allow us to restore smiles that are missing several or all teeth along an arch. While they fulfill the same goal, they're made to accommodate patients in different situations. The base of a partial denture is specially designed to fit like a puzzle piece in your mouth, filling the various gaps along your row of teeth, and using the remaining teeth for stability and support. Full dentures are specially designed to harness the power of natural suction and denture adhesive to stay securely in place, allowing you to eat and speak. without anyone knowing you are missing teeth. Depending on the unique issues you face, you could be a good candidate for either one of these trusted denture designs. Dr. Brett Noorda and his skilled dental team will help you decide what the best option for your particular situation is, and then provide the necessary care to fix your smile!
Learn More About Dentures & Partial Dentures
Tooth-Colored Fillings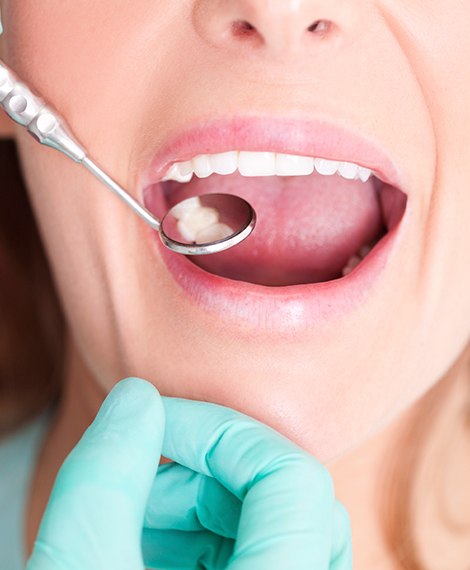 In the past, dentists used silver (also called metal amalgam) fillings to fill holes in teeth and stop decay from spreading and causing tooth infections. Today, at Dental Excellence: Dr. Brett Noorda, we don't make you choose between maintaining good oral health and an aesthetically-pleasing smile. With our tooth-colored fillings, which are made from biocompatible composite resin and offer lasting protection, no onlooker will be able to tell which tooth has had a cavity and which hasn't! And you might not be able to either!