Dental Team – Henderson, NV
Meet Our Friendly & Accommodating Dental Team
At Dental Excellence: Dr. Brett Noorda, our team will make your comfort and safety a top priority. With friendly attentiveness and a close eye for detail, we follow the latest safety and sterilization practices, and we focus on your overall health and well-being. We're committed to giving every patient a positive and rewarding experience, and want you to be a member of our dental family for years to come.
Pat,
Office Manager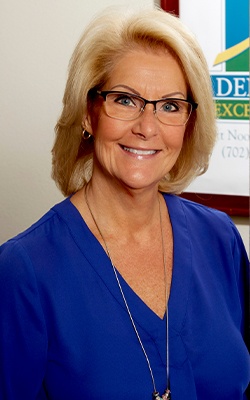 Pat has been working in the dental world for over 35 years. Over the decades, she has attended countless courses at prestigious organizations like the Pride Institute and the Scheduling Institute in order to further her education. Today, as our talented dental office manager, what she enjoys most about her role is getting to work alongside such great team members while also caring for amazing patients. Everyone feels just like a family!
Away from work, Pat and her husband Bill have a grown son named Ryan, a daughter-in-law named Tessa, and two granddaughters named Harper and Reese. Her favorite hobbies include touring on her motorcycle, swimming, playing volleyball, shopping, and going to her granddaughters' various events.
Here's an interesting fact about Pat: She's a Beekman 1802 junkie and just LOVES those baby goats.
Valerie,
Marketing Coordinator/Assistant Manager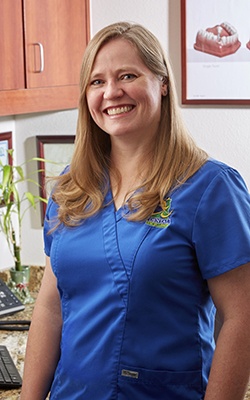 Valerie has her Bachelor of Arts in Communications from Brigham Young University. She also has extensive training in dental front office administration, medical billing, basic dental assisting, and moderate sedation. Today, she has been working in the field for well over 20 years. What she enjoys most about her job is the wonderful patients! She loves meeting new people here at the dental office and being able to welcome them back again and again.
A Reno native, Valerie has six great kids (including in-laws), one grandkid, a dog, a gecko, and a grand-dog. In her spare time, you can often find her hanging out in the mountains, baking, hiking, exploring alternative routes to familiar destinations, reading, and watching movies.
Here's an interesting fact about Valerie: She is endlessly fascinated by nature's variety! She's been known to collect rocks, hug trees, and gleefully celebrate when she comes across living creatures in the wild.
Francesca,
Dental Hygienist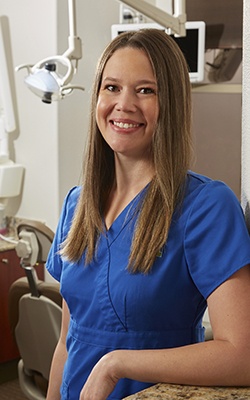 Born and raised in Henderson, Francesca joined our team in 2019, but her overall career in dentistry covers a full decade so far. She earned her Associates of Science in Dental Hygiene from the College of Southern Nevada. Today, she loves working for Dr. Noorda because the entire team always has the best interests of the patients in mind and works together well to serve those interests.
Outside of working hours, Francesca spends plenty of quality time with her husband, daughter, and twin boys. Some of their favorite activities include going outdoors, playing at the park with friends, shopping, and eating at good restaurants.
Here's an interesting fact about Francesca: She has a family home on the river in Arizona and often travels there to relax and recuperate. The beach is another favorite destination!
Tesia,
Dental Hygienist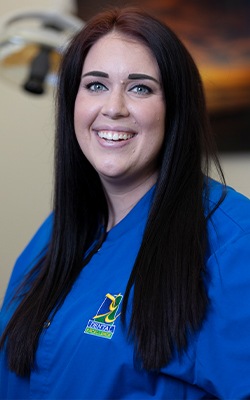 Tesia has been a dental hygienist for over a decade so far, and she loves educating patients while also getting to know them on a personal level. She attended the dental hygiene program at Mohave Community College. She is also certified in nitrous oxide and laser dentistry.
Originally from Phoenix, AZ, Tesia is #5 of seven kids total and has a wonderfully huge family. In her spare time away from work, you can often find her hiking, traveling, playing the piano, or simply enjoying music.
Here's an interesting fact about Tesia: she's been to over 100 concerts in her life so far!
Michelle,
Certified Dental Assistant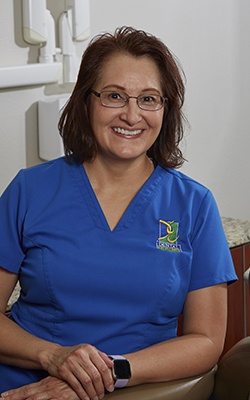 Michelle's career in dentistry spans well over 30 years so far. What she likes most about her role as an assistant is being able to perform treatments on special needs and highly anxious patients safely through the use of sedation.
Michelle hails from Chama, NM and has a very close, loving family. Outside of working hours, she likes going for long walks and exercising. Here's an interesting fact about Michelle: She's a little addicted to playing Candy Crush and binge-watching Hallmark movies.
Shannon,
Expanded Function Dental Assistant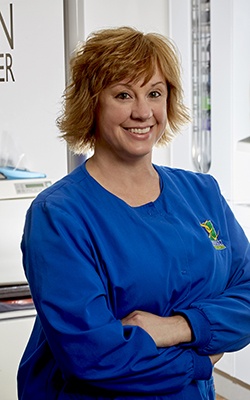 Shannon originally hails from New Palestine, IN, and her career in oral healthcare covers 25+ years and counting. She studied at the Walker Career Center and is an EFDA. She never gets tired of helping our patients smile brighter!
At home, Shannon spends plenty of time with her three fur babies. Her favorite hobbies include gardening, going on walks, and keeping up with sports.
Here's an interesting fact about Shannon: She LOVES the beach!