Inlays & Onlays – Henderson, NV
Conservatively Treating Tooth Damage & Decay
Do you have a tooth that's mild or moderately damaged or has experienced dental decay? Inlays and onlays are a more conservative treatment approach for teeth that can't be treated with a simple composite resin filling, but also don't have extensive enough damage to require a dental crown. We craft inlays and onlays in our Henderson, NV dental office from beautiful, natural-looking materials that will help restore not only the health of your teeth, but also the aesthetic appearance.
Why Choose Dental Excellence: Dr. Brett Noorda for Inlays & Onlays?
CEREC Same-Day Inlays & Onlays
Preserve Your Natural Tooth Structure
Highly Experienced Restorative Dentist
What Are Inlays
& Onlays?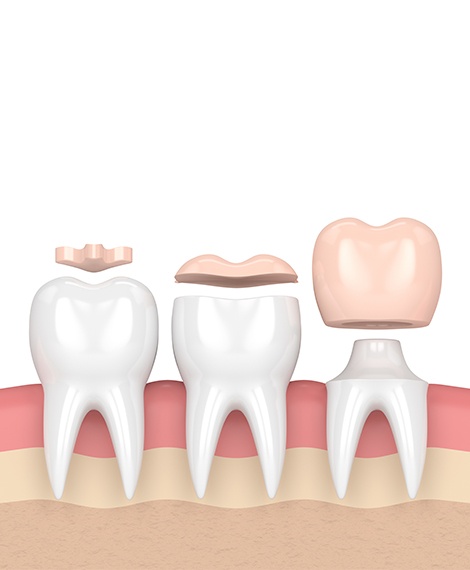 When a damaged or decayed molar needs more than a filling but doesn't quite need a crown, Dr. Brett Noorda may recommend a porcelain inlay or onlay. These custom dental restorations require very little tooth preparation to restore compromised teeth – even ones with major structural problems such as fractures.
While a crown covers all of the tooth's surfaces, inlays and onlays cover just the chewing surfaces. An inlay fits inside the bumps, or cusps, of a tooth and is generally small in size. Dr. Brett Noorda applies inlays to restore teeth with mild to moderate damage. An onlay covers one or more cusps of a tooth to provide restoration and protection and can be used to restore a structurally unsound tooth.
Inlays and onlays take two dental office visits, one to design the repair and prepare the tooth, and one to attach the custom-created porcelain piece. They're created in a lab that specializes in custom dental restorations.