Full & Partial Dentures – Henderson, NV
Trusted Solutions for Missing Teeth
Tooth loss can affect everything from how you eat and speak to the way you feel about your appearance -- and the majority of adults will have lost at least one tooth by the age of 55. Finding an effective tooth replacement option is of the utmost importance after teeth have gone missing. Your restorative dentist, Dr. Brett Noorda, provides high-quality solutions at Dental Excellence: Dr. Brett Noorda. Full and partial dentures from our Henderson, NV dentist are a trusted and recommended option for many patients, and to learn whether they're right for you, we welcome you to contact our dental office to schedule a consultation.
Why Choose Dental Excellence: Dr. Brett Noorda for Full & Partial Dentures?
Precisely-Fitted, Digitally-Made Dentures
We Proudly Accept Dental Insurance
Implant-Retained Dentures Available.
Traditional Dentures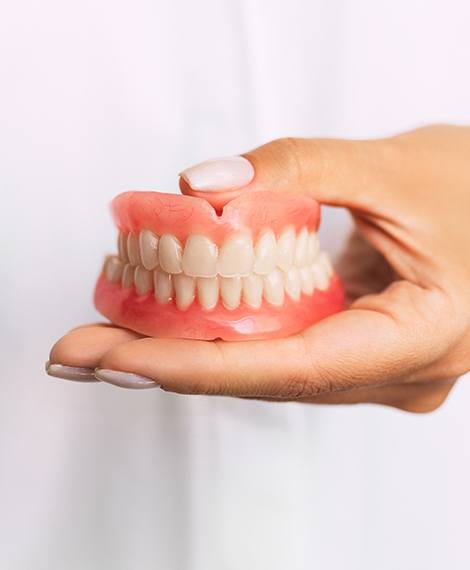 A traditional denture is a set of prosthetic teeth affixed into an acrylic base designed to look just like your natural gum tissue. It can be used to replace an entire arch of teeth in the upper or lower jaw. A traditional denture is secured in the mouth using natural suction. Denture cream or adhesive can provide additional security for a traditional denture.
With proper care and maintenance, a traditional denture will typically last for five to seven years before it requires replacement due to wear and tear and natural changes in your bone structure. At Dental Excellence: Dr. Brett Noorda, our dentures are created with an impeccable attention to detail to ensure that they look, fit, and function just as well as your natural teeth.
Dental Implant-Retained Dentures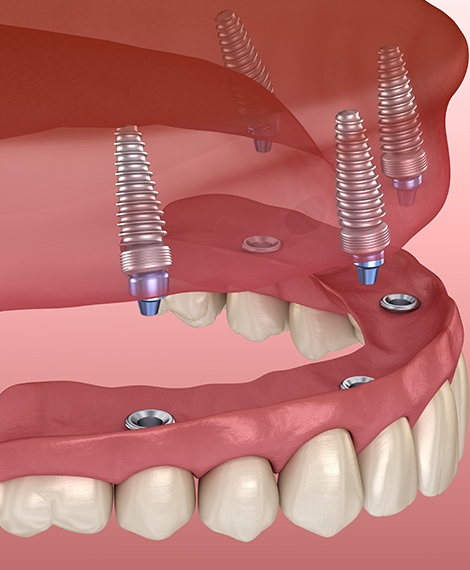 Compared to traditional dentures, a dental implant-retained denture offers superior stability for eligible candidates. Rather than being supported on the gum tissue, this type of denture is secured on sturdy dental implant posts that have been placed beneath the gum line. Dental implants promote better oral health because they provide prosthetic tooth roots for the jaw, which brings blood flow and important nutrients to the bone structure. Patients who have an implant-retained denture enjoy better oral health over time for this reason.
Some advantages you can enjoy by combining dental implants with dentures include:
A more stable tooth replacement
Natural looking and feeling replacement teeth
Lifespan of 35+ years
Promote better oral health
Denture fits properly from day one and for years to come
Fewer replacements/adjustments are needed for the denture
Patients should be in suitable oral and overall health in order to be eligible for dental implants.
Partial Dentures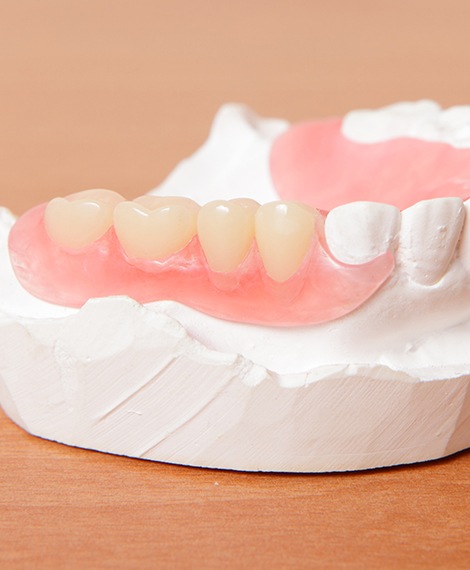 A partial denture is an effective option for patients who have lost a number of teeth but who still have several healthy natural teeth remaining. The partial fills in the gaps in the smile much like a missing puzzle piece. Patients requiring a partial denture benefit from a customized tooth replacement that is held in place using metal brackets affixed around the natural teeth. It restores the ability to eat, speak, and smile with confidence while also preventing the natural teeth from drifting out of place.
Let's Talk
About Dentures!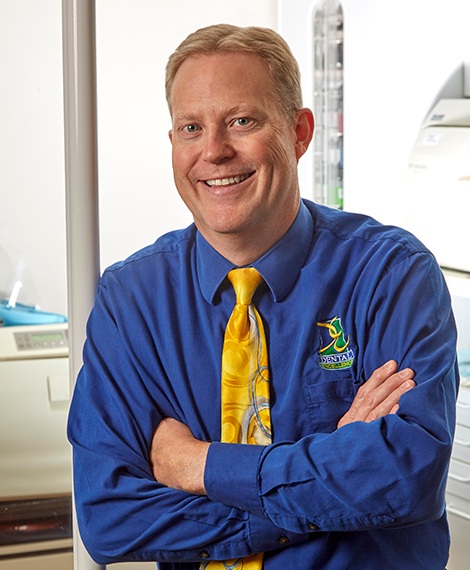 If you are missing a substantial number of teeth, a full or partial denture can provide a wonderful replacement option. Dental implants offer added security for a traditional denture. Find out about your options for rebuilding your smile by contacting the dental office of your dentist, Dr. Brett Noorda!
Denture Frequently Asked Questions
How do I take care of my dentures?
Taking care of your dentures should be pretty easy. If you have a permanently fixed, implant-retained denture, you can brush and floss similarly to how you would for your natural teeth. If you have a removable prosthesis, you should:
Keep your dentures moist when you're not wearing them by placing them in a denture-soaking solution.
Gently brush your dentures so you can prevent stains and bad breath.
Handle your dentures with care; stand over a folded towel or a bowl of water when you remove them so if you accidentally drop them, they're less likely to break.
Clean your gums daily with a soft, wet cloth to get rid of bacteria and any leftover denture adhesive.
How often do I need to see the dentist when I have dentures?
Some people operate under the mistaken belief that, if they have dentures, visiting their dentist in Henderson regularly is no longer necessary. However, there are several reasons why you should still see a dental professional twice a year:
If you have any natural teeth remaining, it is important to get these cleaned and examined.
Oral cancer is a risk for everyone, regardless of how many teeth they have. Your dentist can perform a quick screening during your appointment.
Your dentist can look for signs of gum disease and help you treat any issues with your gums before they become severe.
Your appointments are the perfect opportunity to ask your dentist any questions you have about your oral health.
When do I need to replace my dentures?
On average, removable dentures need to be replaced once every five to seven years or so. That is because after you lose teeth, you experience significant bone loss in the jaw. This bone loss changes the way dentures fit, and eventually the changes reach the point where your artificial teeth are no longer comfortable for you to wear. When you start to notice that your dentures no longer fit right or are causing you pain, it's important to pay a visit to your dentist to find out if it's time to get a replacement.
How much do dentures cost?
The cost of your dentures in Henderson will depend on a number of factors, including:
How many teeth you need to replace.
The materials used to make the dentures.
Whether you want a removable prosthesis or implant-retained dentures
We'll crunch some numbers with you during your consultation so you understand exactly what your financial obligation we'll be. We'll also be happy to file a claim with your insurance company or arrange a payment plan to help you manage the cost of your new smile.
What if my dentures are irritating my gums?
If your dentures are irritating your gums after wearing them for years, it's possible that they no longer fit right. It could also be that you've been wearing your dentures too much and you need to let your gums rest a bit. Whenever you experience gum discomfort because of your dentures, don't hesitate to get in touch with us. We'll help you find out why you're in pain and give you suggestions on how to deal with the issue.