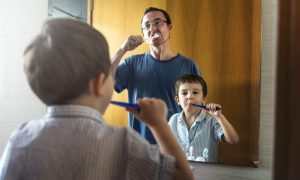 If you've tried picking up the phone to schedule a routine appointment with a dentist in Henderson, you're likely told that you can't get scheduled at this time. As a result of COVID-19, it makes sense that businesses known for managing large groups of people would not be able to stay open, but how do dental practices fit into this? To learn why dental practices cannot perform routine care and how to protect yourself until they reopen, keep reading!
Why Dental Practices Are Closed During COVID-19
Dental offices are known for being extremely sterile in order to prevent the spread of disease. This is largely because of how airborne particles have a tendency to travel throughout the air following even the most basic treatments, including cleanings. While dentists and other dental professionals already do what they can to sanitized their workplaces, the nature of the job simply creates too high of a risk to perform care on patients who may be positive with COVID-19, but simply don't know it yet.
At this time, the safest thing to do is stay closed for routine care and only see patients for dental emergencies. This decision is obviously less than ideal, but dental practices are more than prepared to put the safety of their community and team members first as well as do their part to reduce the spread of such a harmful disease.
If you are diligent about your smile, now is the perfect time to make sure that you are doing everything you can to protect you and your family's oral health during these difficult and uncertain times.
How to Protect Your Oral Health for Now
Getting to a dentist for an exam or cleaning is not feasible at this time, but that doesn't mean you have to suffer with dental disease! Keep the following points in mind and you'll be well protected against ailments like tooth decay and gum disease for the time being.
Brush your teeth twice a day for at least two minutes at a time.
Make sure to pay close attention to the gum line and all surfaces of your teeth. This includes the flat surfaces of the molars as well as the back surfaces facing the throat, both areas that can easily develop tooth decay.
Floss at least once a day by pulling out 12 to 18 inches of floss and wrapping it around your index fingers. As you floss all of your teeth, unravel a small portion of clean floss on one hand to clean the harder-to-reach areas of your teeth.
Introduce an oral rinse to your routine for extra protection.
Practice oral care after meals and snacks to prevent plaque buildup.
Never use your teeth as a tool in order to avoid dental emergencies.
While times can be difficult, that doesn't mean that you have to settle for poor oral health! Keep these steps in mind and you can avoid the overwhelming majority of dental disease.
About the Author
Dr. Brett Noorda is an expert when it comes to general dentistry. He's collected hundreds of hours of continuing education in numerous dental disciplines and is more than prepared to help those in need for care during a dental emergency. If you need urgent dental care during the current pandemic, please don't hesitate to contact him through his website.