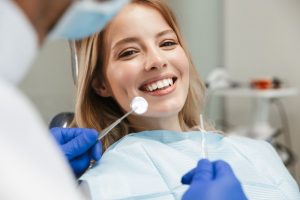 As you get on the freeway after a long day at work, you begin to imagine your relaxing night ahead. As you ponder whether a nice glass of wine or a bubble bath is in your future, your phone notifies you that your bi-yearly visit is tonight. Without thinking twice, you quickly call their office to reschedule, and by the time you have pulled into your driveway, you have convinced yourself you are actually saving money by doing so.
Unfortunately, this way of thinking could negatively affect your oral health and your wallet. In fact, research has shown that every dollar invested in preventive care saves you between $8 and $50 in the long run! Read on as a dentist shares three examples of how routine visits can save you money.
Routine Visits Alleviate Problems While They Are Small
In short, prevention tactics are more cost-effective than treatment options. During your bi-yearly visits, your dentist will check for early signs of dental issues like tooth decay and gum disease. If they see anything unusual, they can recommend preventive measures or minor interventions, like placing a sealant on your tooth to prevent tooth decay. This will ensure that the integrity of your tooth is intact and safeguard your teeth from dental emergencies.
Routine Visits Can Catch Non-Dental Issues
Did you know that 90% of health conditions have oral symptoms? While your dentist will check for dental issues, like cavities, during your exam, they will also take extensive measures to check for non-dental conditions. Therefore, your bi-yearly visits also include gum disease evaluation and oral cancer screening. Plus, your dentist will check for early warning signs of diabetes, osteoporosis, HIV, and other health concerns that display oral symptoms early on. That way, you can ensure your oral and overall health is in tip-top shape.
Routine Visits Remove Unpleasant Stains
After your dental exam, your dentist or dental hygienist will conduct a professional cleaning. While this portion of your visit is instrumental in removing stubborn plaque and tartar, it can also get rid of unpleasant stains that discolor your teeth. Otherwise, your teeth can take on a weak or frail appearance. If your routine visits are neglected, then you will need to opt for a teeth-whitening procedure later to restore your bright smile. Instead of paying for this cosmetic treatment, prioritize your routine cleanings to preserve your pearly whites!
Although attending your bi-yearly visits can seem like a hassle, they are crucial to your overall health. Plus, they can save you money in the long run! Therefore, make sure to look at your routine appointments like the crucial part of your oral hygiene routine that they are!
About the Author
After graduating cum laude from Brigham Young University, Dr. Brett Noorda earned his DMD from the Oregon Health Sciences University School of Dentistry in 1996. Again, he graduated with honors and even received the Larry E. Sorum Memorial Award for Excellence in Endodontics! Today, he uses his 20+ years of experience to deliver honest, integrity-based care to his patients. Dr. Noorda also has completed over 750 hours of continuing education and received the Academy of General Dentistry's Fellowship Award in 2006. If you would like to schedule your bi-yearly visit, don't hesitate to visit his website or give him a call at 702-456-7403.