August 9, 2019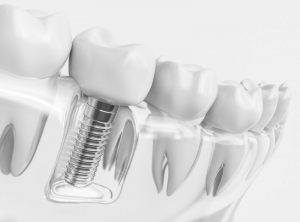 If you're missing one or more teeth, chances are you've thought about getting dental implants – metal posts that are inserted below the gumline to perfectly mimic the root of a lost tooth. This allows them to restore your biting power and confidence a whole lot more than bridges or dentures alone ever could. You may have heard that there are two types of dental implants, but how can you decide which one is right for you? Ultimately, you'll have to visit your implant dentist for a consultation, but we've created this guide to help you make that choice.
Endosteal Implants
Endosteal, which means "in the bone," implants are the most common type of dental implant. The post is placed directly inside the jawbone, where the bone will grow around the implant until it essentially becomes a part of you. It can be used to support any number of dental prostheses, or artificial teeth, such as crowns, dentures, and bridges.
Subperiosteal Implants
Subperiosteal means "on the bone." This type of implant is placed underneath the gumline but on top of the jawbone. Posts protrude through the gumline to hold a dental prosthesis in place.
Which One is Right for You?
In most cases, an endosteal implant would be the better choice for the patient. Because it fuses with the jawbone over time, your biting power will be restored to the level it was before you lost your tooth. Once the implant has become part of your anatomy, you may even forget that you got an implant, because it will feel so natural.
The main requirement for getting an endosteal implant is to have enough healthy jawbone tissue to support it. You must also have healthy gums and good general health. This means no diseases that may compromise your immune system. If you don't have enough healthy jawbone tissue, you must be able and willing to undergo a bone graft procedure before you can get the implant placed.
If you can't or don't want to get a bone graft, don't worry. That's what subperiosteal implants are for. These implants are lightweight and don't place any stress on the jawbone. They are also used for patients who can't wear conventional dentures due to gum problems.
Dental implants are a great way to restore your smile back to its former glory. Ask your dentist today about which kind of implant would better suit you.
About the Author
Dr. Brett Noorda is an implant dentist who is a member of the prestigious International Congress of Oral Implantologists. He has also received a Fellowship from the Academy of General Dentistry due to his passion for taking continuing education courses in all areas of dentistry. If you're missing teeth and live in the Henderson, NV area, don't hesitate to contact Dr. Noorda by calling (702) 456-7403.
Comments Off

on Which of the Two Types of Dental Implants Is Right for You?
No Comments
No comments yet.
RSS feed for comments on this post.
Sorry, the comment form is closed at this time.