May 3, 2019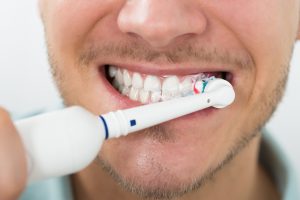 Having a healthy heart involves more than exercising, eating vegetables, and avoiding stress. Believe it or not, you have to keep your mouth healthy as well! Not taking care of your teeth can cause gum disease, which affects half of all adults over the age of 30. If you gums look red or puffy or you bleed when you brush or floss, you most likely have gum disease. It might not seem like a big deal, but it can lead to heart problems down the road.
What is Gum Disease?
Gum disease, or periodontal disease, is a bacterial infection of the gums and the surrounding structures that support the teeth. It can be caused by several factors, including:
Plaque buildup due to poor oral hygiene
Pregnancy
Genetics
Lifestyle habits
When plaque accumulates around the gumline, it creates toxins that break down the gums, preventing them from bonding to your teeth. The plaque then spreads between the gumline and makes pockets for bacteria to grow and destroy your teeth and gums.
Symptoms of gum disease typically include:
Bleeding when brushing or flossing
Red or swollen gums
Receding gums and loose teeth
Constant bad breath
How Does Gum Disease Affect My Heart?
Research has been done on the correlation between gum disease and heart disease, but no definitive answer has been found on exactly why the connection exists. For example, one article evaluated several studies and determined that gum disease increases one's risk for heart disease by about 20%. The writers concluded that more high-quality research was needed as to the exact reason why.
One theory for this link states than when you have gum disease, bacteria in your mouth can more easily enter your bloodstream. They can reach your heart and cause plaque to build on your arteries and make them harden. In addition, they can attach to the fat deposits in the heart blood vessels, which can cause blood clots and may lead to heart attacks.
Another theory is that, if left untreated, the characteristic inflammation of gum disease could set off a chain reaction in the body that leads to inflammation of the heart.
How Can I Prevent Gum Disease?
The best way to avoid gum disease is maintain good oral health by brushing twice a day, flossing once a day, and visiting your dentist twice a year for checkups. Other prevention techniques include:
Use mouthwash regularly.
Don't smoke or chew tobacco.
Stay away from sugary foods.
Eat a diet high in vegetables, fiber, and low-sugar fruits.
Oral health is just as important as any other kind of health. Not taking care of your mouth can have serious consequences for the rest of your body! If you think you might have gum disease, contact your dentist first thing to learn about treatment options.
About the Author
Dr. Brett Noorda has been providing outstanding dental care to his patients in the Henderson, NV area for more than 20 years. He has taken more than 750 hours of continuing education in all areas of dentistry. He received the Academy of General Dentistry's Fellowship Award in 2006, one of only 7% of general dentists in the nation to do so. To learn more about how Dr. Noorda can help you improve your oral health, click here or call (702)-456-7403.
Comments Off

on The Link Between Gum Disease and Your Heart: Fact or Fiction?
No Comments
No comments yet.
RSS feed for comments on this post.
Sorry, the comment form is closed at this time.