December 11, 2018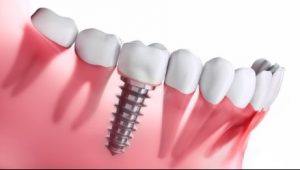 Most people tend to take their teeth for granted – until they lose them! Then the many consequences of tooth loss hit home, including a lack of self-confidence. It's very common to feel embarrassed or self-conscious after tooth loss, and many people even hide it from their closest friends and family. From covering your mouth when you smile to declining invitations to dinner, the effects on your quality of life are far-reaching. But one of the biggest advances in modern dentistry offers hope: dental implants. Below, you'll learn about the 5 ways implants can restore both your smile and self-confidence so you can get your life back after tooth loss!
1. You'll Feel Confident During Meals
Sharing meals is an important part of socializing, and people have always celebrated big life events with food. But for people who have lost their teeth, they may feel hesitant to join in.
Enjoying steak and corn on the cob at a cookout or going on a dinner date with a new person are just a couple of examples of difficult situations when you can't comfortably chew your food.
But since implants give you far more chewing power and stability than other options, they allow you to comfortably eat your favorite foods without any worry. And for people who have lost all their teeth, implant-retained dentures will provide big improvements.
2. You'll Look and Feel Younger
One unanticipated consequence of tooth loss is losing bone mass in the jaws. When the teeth are gone, the jaw shrinks over time and leads to an aged, sunken-in appearance to the face.
Dental implants are the only option that stimulates the jaws and maintains them over time, so your appearance won't change and you'll maintain a youthful facial structure.
3. You Can Speak, Smile and Laugh With Confidence
Traditional dentures can slip during conversations, which can be embarrassing because it immediately gives away the fact that you've lost teeth.
And even if you're just missing 1-2 teeth, the empty spaces can show when you smile or laugh, making you want to cover your mouth or avoid smiling altogether.
4. Your Overall Oral Health Will Be Restored
Implants look and feel more like your own teeth than anything else. In fact, they work so well that you might even forget you ever lost teeth to begin with, which is the best possible outcome when you've experienced tooth loss.
5. You'll Get Long-Term Confidence
Dentures need to be replaced about every 5-8 years, while bridges last an average of 10 years. With reasonably good brushing and flossing habits and regular checkups, implants can last many decades or even a lifetime.
With this modern dental procedure, you'll not only get your healthy smile back, but you'll enjoy all the benefits that go with it!
About the Author
Dr. Brett Norda is a general, cosmetic and implant dentist who is thrilled to use advances in dentistry like dental implants to improve the lives of his patients with missing teeth. He especially likes seeing the impact that restoring someone's smile has on their self-confidence. If you're considering dental implants and have any other questions, he can be contacted through his website or (702) 456-7403.
Comments Off

on Want 5 Ways To Increase Your Confidence After Tooth Loss? Consider Dental Implants!
No Comments
No comments yet.
RSS feed for comments on this post.
Sorry, the comment form is closed at this time.