January 13, 2019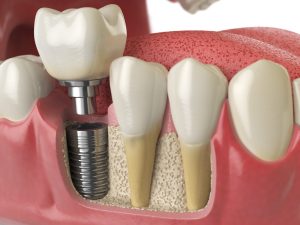 Many people make New Year's resolutions each year, all aimed at self-improvement. Getting in better shape, saving more money, and getting more sleep are all classic examples! But if you're one of the 120 million Americans who have experienced tooth loss, why not decide to restore your smile instead? For many years, bridges and dentures were the only choices available, but now you have an option that looks and feels like your own teeth: dental implants. So, if you'd like to make 2019 the year you get your smile back, keep reading to learn about the importance of replacing missing teeth and why dental implants are such a great choice!
Why Is It So Important To Replace Missing Teeth?
There are many reasons for tooth loss, including gum disease, cavities, and trauma. It's not uncommon to consider leaving the empty space rather than replacing the tooth (or teeth), but even missing just one tooth has a negative impact on your overall oral health and self-confidence.
Not to mention that it can lead to other problems that cost time and money to fix later on, including:
Tooth loss can make it difficult to chew comfortably and speak clearly.
The jaws begin to shrink, which can lead to an aged appearance or "sunken-in" facial structure.
The remaining teeth behind the missing space begin to move or tip forward to "fill" the empty space, leading to potential bite problems.
The teeth on either side of an empty space are more susceptible to cavities and gum disease.
Fortunately, dental implants can prevent all of these complications.
What Benefits Do Dental Implants Provide?
Implants are titanium posts that replace the roots of missing teeth (before being completed with a dental crown, bridge or denture). This one feature distinguishes dental implants from other options and accounts for many of their advantages:
Superior chewing strength and stability – The roots of your teeth are what give them strength. Since implants are essentially prosthetic roots, they feel and function more like your own teeth than any other option.
Bone levels are maintained – Implants simulate the surrounding jawbone and maintain it over time, just like natural teeth do.
Self-confidence – With implants, you won't have to worry about anyone knowing you've lost teeth the way you might with dentures.
Longevity – Implants are a great long-term investment because they can last many decades with proper care and maintenance.
Tooth loss can have many surprising consequences, but you can avoid them by restoring your smile with dental implants. And, since 2019 just got started, it's a perfect time to make it happen!
About the Author
Dr. Brett Noorda is a general, cosmetic and restorative dentist with over 20 years of experience. He's also a member of the International Congress of Oral Implantologists and provides outstanding implant dentistry – from the initial surgical placement to the final restoration. If you have any other questions about dental implants, he can be reached via his website.
Comments Off

on Don't Want To Go Through 2019 Without All of Your Teeth? Dental Implants Can Help
No Comments
No comments yet.
RSS feed for comments on this post.
Sorry, the comment form is closed at this time.