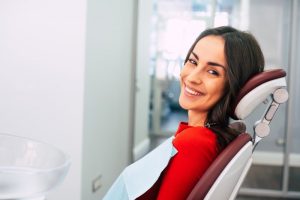 For months now, you've been hiding your smile and avoiding too many social gatherings. While you made it through the holidays without having to smile for too many photos, it's now the new year, and you want to do something about your missing teeth. Fortunately, there is a solution that offers benefits that cannot be found with any other restorative treatment – dental implants. Offering dramatic results that will have you doing a double-take the first time you see your smile, find out more about these revolutionary restorations and how they can benefit you in 2020.
What Are Dental Implants?
Dental implants are titanium posts that are surgically placed into your jawbone to replace missing teeth. Restoring your entire tooth's structure from the root up, these custom-made restorations make it possible to prevent deterioration of the jawbone because of the continued stimulation provided by the implant.
Apart from the implant itself, these prosthetics also include a metal appliance known as an abutment that is attached to the implant and connects to the dental restoration, as well as a custom-made dental crown, implant bridge, or implant-retained denture.
What Are Their Benefits?
Your dentist understands there are various ways you can replace your missing teeth: dentures (full or partial), a fixed bridge, or dental implants. When discussing with him during your initial consultation, he will perform a thorough examination to ensure you are eligible for the latter. If your jawbone proves strong enough, you will find that dental implants offer benefits that dentures or a fixed bridge cannot provide, such as:
Improved oral health – With posts that are surgically implanted into the jawbone, this gives the bone the stimulation it needs to prevent weakening over time.
Greater stability – Unlike dentures that sit on top of the gums, implants fused to the bone and surrounding tissue, offering maximum stability.
Optimal functionality – You won't have to worry about accidental slippage with dental implants. You can eat, chew, and speak with confidence.
Longevity – With proper care, dental implants can last 30+ years, whereas, dentures typically need to be replaced every 7-8 years and a fixed bridge may last 10 years or more.
Increase confidence – While all three solutions can help boost your confidence, only can implants give you the added security and reassurance of knowing your smile isn't going anywhere for a long time.
Natural look and feel – Dentures can sometimes feel uncomfortable or ill-fitting. Dental implants act as a regular tooth, so not only will you see a beautiful, blended smile that feels completely normal, but others will be unable to tell the difference between your real and artificial teeth.
Improve your smile this year! Meet with your dentist to discuss your options and find out whether dental implants are the right treatment option for you.
About the Author
Dr. Brett Noorda entered private practice in 1996, after completing his undergraduate degree in zoology from Brigham Young University, graduating cum laude, as well as his DMD from Oregon Health Sciences University School of Dentistry. Dr. Noorda wants you to know that you come first, and if you need a restorative solution to replace your missing teeth, he and his team are happy to offer dental implants! With greater permanence, functionality, and stability, you can feel great starting the new year with a healthier, complete smile. To find out if you are eligible for dental implants, we invite you to visit our website or call (702) 456-7403.