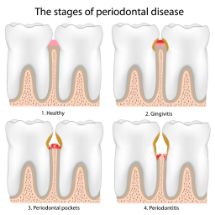 Heart disease refers to a range of conditions such as high blood pressure, chest pain, stroke, heart attack and more. And while it's the leading cause of death in both men and women, great strides have been made in understanding prevention and treatment in recent years. In fact, researchers have discovered a connection between gum disease and the heart that may surprise you. Keep reading below to learn how a dentist can keep your smile healthier and also lower your risk of heart disease at the same time.
How Are Your Gums Related To Your Heart?
It may seem like your oral health is isolated from the rest of you, but the truth is that your body is a complex system in which everything is connected. And, in recent years, there have been a huge number of studies showing that gum disease puts your heart at risk. In fact, one recent study found that it increases your risk of heart disease by 20%.
So what explains the link? Plaque and tartar are mostly made of bacteria that cause inflammation of the gums. It's thought that this bacteria spreads throughout your body via the bloodstream. Once in the heart, it can cause inflammation and plaque to form in the arteries.
What Are the Signs of Gum Disease?
Common signs of gum disease include bleeding gums (typically after brushing and flossing), tender or swollen gums, persistent bad breath, changes to your bite, and even loose teeth in advanced stages.
How Can You Improve the Health of Your Gums?
Many people with gum disease don't know it, so the #1 thing you can do is get regular checkups (which include an annual gum evaluation). If your gums are healthy or you simply have the first stage of gum disease called gingivitis, regular cleanings and good oral hygiene habits are usually enough to maintain your gums.
If a dentist finds more advanced gum disease, they may recommend a procedure called scaling and root planing (also called a "deep cleaning") to keep it from progressing. It's usually done in 2 to 4 appointments and your gums will be numbed beforehand.
Doing well with brushing and flossing is also crucial for reducing inflammation, improving your gums, and ultimately lowering your chance of heart disease. When you combine professional care with good habits at home, you'll have a great chance of maintaining your smile and heart health for life.
About the Author
Dr. Brett Noorda graduated from the Oregon Health Sciences University School of Dentistry and has over 20 years of experience as a family dentist. He always stays on top of the latest research on how gum disease impacts the rest of the body so he can better educate his patients on how to stay healthy. If you'd like more information about gum disease or have any other questions, he can be reached via his website.