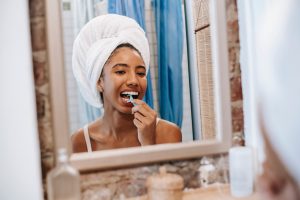 Did you know a healthy smile relies on more than just your teeth? Your gums are equally important. The biggest threat to your gum health is an infection called periodontal disease. Although it's preventable, at least 50% of Americans have a form of it, making it the leading cause of tooth loss. Thankfully, you can keep it at bay by flossing your teeth daily. While it may seem self-explanatory, simple mistakes while you're flossing can place your smile at risk. Here are a few of the most common mistakes you can make that can jeopardize your smile.
Why is Flossing Important?
Your first line of defense against preventable dental issues starts with your oral hygiene routine. Your toothbrush is crucial to removing food particles and plaque from your teeth, but it can't reach everywhere in your mouth. It's impossible for it to clean the tight spaces between your teeth and around the gum line. The only way to get rid of the buildup is with dental floss. Skipping flossing leaves as much as 40% of your teeth's surfaces uncleaned, significantly increasing your risk of periodontal disease. Flossing eradicates the accumulations left behind by your toothbrush to keep your gums healthy.
Common Flossing Mistakes
If you're like most Americans, you likely aren't a fan of flossing. It's estimated only 16% of adults floss every day. Although it may not seem concerning, simple mistakes like skipping flossing before bed increases the risk of periodontal disease. Here are 4 ways you might be unknowingly compromising your gum health:
1. Not Flossing Enough: The Centers for Disease Control and Prevention recommend flossing daily to remove any food and bacteria that have collected between your teeth.
2. Flossing at the Wrong Time: It's better to floss at night to prevent harmful bacteria from breaking down and irritating your gums while you are sleeping.
3. Not Flossing and Brushing in the Proper Order: Believe it or not, the order you brush and floss is important. The Journal of Periodontology recommends flossing before you brush to allow fluoride to reach the spaces between your teeth.
4. Wrong Type of Floss: Not all flosses have earned the American Dental Association's Seal of Acceptance, which means they may not have been tested for safety or effectiveness. It's best to choose a floss that has the seal. In addition, consider whether you prefer waxed or unwaxed. If you have small spaces between your teeth, a thinner floss may be easier to use.
Protect Your Gum Health
Even if you view it as a chore, flossing is essential to a healthy smile. Commit to cleaning your entire smile down to the gumline to eliminate any bacteria and plaque that can hide between your teeth. By flossing daily, you'll give your dentist in Henderson much less to do at your next preventive appointment.
About Dr. Brett Noorda
Dr. Noorda earned his dental degree from the Oregon Health Sciences University School of Dentistry. He has completed advanced training in many specialties, like cosmetic dentistry, endodontics, and dental implants. He has the experience and qualifications you need to treat periodontal disease. If you have signs of the infection, like red, swollen, or bleeding gums, don't wait. Contact our office today to schedule an appointment.