December 29, 2017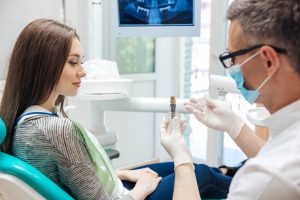 While dentists are recommending dental implant supported tooth replacement more and more often, many patients are still worried about these surgical procedures. If you've heard horror stories about the worst-case scenario for dental implant placement, it's important you understand that these stories are few and far between. Actually, dental implant placement is a safe procedure with a 95% or higher success rate. There are some complications that may occur during or after implantation, but for the most part, these complications can be avoided with better planning before beginning the surgery.

1 – Nerve Damage
This is one of the most common complications that happens during implant placement. Each tooth has nerves running through the roots and into the gums and bone tissue, connecting them to the rest of the body. When these nerves are damaged during treatment the result can be serious and painful complications. The implant placement will almost definitely fail, and there may be even more serious ramifications for your oral and overall health. The key to avoiding nerve damage during implant placement is to use advanced treatment planning tools like 3D cone beam scanners to ensure the implant is precisely positioned.
2 – Damage to Other Oral Structures
Another common complication that occurs due to lack of precision in the planning stages is damage to other oral structures. Improperly placed implants can shift surrounding teeth out of alignment or damage the root structures of teeth. Some patients have even experienced damage to the jawbone or gum tissue.
3 – Invasion of the Sinus Cavity
The bone in the upper jaw can be very thin due to the size and shape of the sinus cavity. Even if the implant is placed properly, it may break through the jawbone during osseointegration (fusion between the implant and jaw). If you have one or more implant posts placed in the top row of teeth, it's important to monitor the healing process and let your dentist know right away if you think anything is not right.
4 – Infection at the Implant Site
The most common concern that occurs after the placement of a dental implant is an infection. This is actually the most common issue that affects patients following any surgical procedure. The easiest way to avoid infection is to carefully follow your post operative instructions, clean the surgical site as instructed, and contact the doctor right away if you notice warning signs of infection including swelling, inflammation, and fever.
Meet Dr. Noorda
At Dental Excellence, Dr. Brett Noorda and his team offer safe, effective dental implant treatments. We have years of experience placing dental implants to ensure the patient's safety and the efficacy of the procedure. If you're worried about potential complications, please talk to Dr. Noorda or the team. We'll take the time to answer your questions and ensure you feel completely comfortable before we move forward. Call our team today to schedule your tooth replacement consultation. We'll evaluate your oral and overall health and help you to completely understand the situation before moving forward with dental implant placement and restoration.
Comments Off on 4 Common Dental Implant Complications
No Comments
No comments yet.
RSS feed for comments on this post.
Sorry, the comment form is closed at this time.